The PRAX Advantage
Prax Enterprises prides itself in being an integral part of the Slave Lake Community. We are committed to operating safely and providing a safe working environment for all its employees, prime contractors, clients, and the public at large.
Whether at our shop or on-site with a client, all PRAX employees conduct themselves with the utmost attention to safety and protocol. We adhere to policies and procedures that ensure the optimal health and safety of our employees, contractors, clients, and visitors to our offices. Without fail, we ensure that all work is carried out within applicable legislated safety regulations and in strict adherence to PRAX policies and procedures.

Servicing Slave Lake and the area for over 9 years, PRAX ENTERPRISES is locally owned and operated by Terry & Kelly Adelman. Terry has been involved in the oil and gas industry in the region for 28 years and is still often actively involved in field activities.
We take pride in our employees and workmanship and our reputation as a dependable contractor has been made possible by the efforts and experience of our entire team. Since our inception, our goal was to surround ourselves with quality people and equipment to best serve our clients. We continue to provide value to our clients through innovative solutions, suggestions of efficiency, and a forward-looking management team.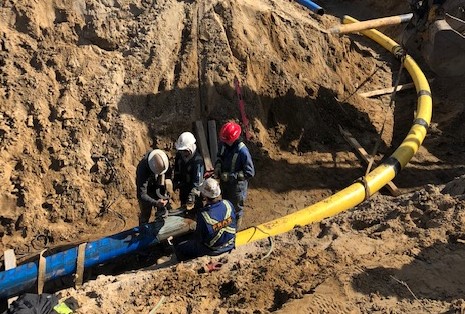 Safety
At PRAX, we are committed to Safety and Training. We take pride in our safety record and have developed a detailed Safety Management System to ensure everyone goes home safe at the end of each day. PRAX is COR Certified through Energy Safety Canada and is registered with ISNetworld and ComplyWorks.
The PRAX Preventative Maintenance System ensures each truck and piece of equipment is inspected, maintained, and guaranteed for optimal performance on the road and in the field. PRAX holds an Audited Satisfactory Safety Fitness Certificate with Alberta Transportation.
PRAX holds a Quality Management System (QMS) with ABSA for B31.3 and B31.1 in shop and field Pressure Piping. This system is internally and externally audited to comply with all regulatory requirements to provide quality pipeline and facility construction. B-Pressure Welding procedures include both carbon and stainless steel.
PRAX is proud to be an active member of the Slave Lake Community and have a long history of supporting other small businesses, seniors, children, fundraisers, events and non-profit associations. We are proud to have donated over $50,000 in-kind to the development of the Regional Fire Department's training center.
Contact Us
At PRAX, we pride ourselves on our team's ability to supply high quality workmanship that's always on time, on point and on budget. We have experienced operators and crews with a long history of providing safe, reliable services to meet the most demanding needs of our clients. Call us today about your next project, regardless of its size.